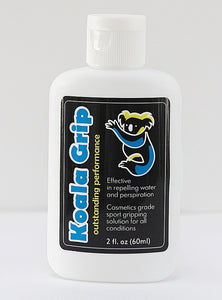 KOALA GRIP - what is it?
KOALA GRIP is designed and manufactured in Australia. 
KOALA GRIP is a sports performance lotion that enhances grip quality even under humid or rainy conditions. KOALA GRIP is the most comfortable grip solution available for sports performers today. You definitely will feel the difference after the first application. It works instantaneously and lasts long enough to get you through the critical moments of the game or performance as a winner.
KOALA GRIP content includes Ethanol, Silica, Phenyl Trimethicone, Glycerin and Cyclopentasiloxane.
All our ingredients conform to current cosmetic regulations and offer you a non-sticky and non-greasy solution specially developed to maximise your performance and gives you the confidence you need with a steady hand to perform at your best. Our gentle vegan-friendly, long-lasting, non-slip formula improves your grip and offers the protection you need even in the rain or in humid conditions.
Application of KOALA GRIP:
Wash and dry hands and anchor points prior to application. Dispense a small amount into the palm and spread evenly across the relevant areas. Allow to air dry for approximately 10-20 seconds. Here it is - perfect long-lasting grip without being sticky or greasy.
Benefits of KOALA GRIP:
The main advantage of the KOALA GRIP is that it is neither sticky nor greasy.
KOALA GRIP leaves no powdery/dusty mess and it will not be banned in any of the gyms or studios.
KOALA GRIP contains alcohol (Ethanol), so will help to disinfect and act as an anti-bacterial. Great for use in gyms and pole studios.
Best of all, KOALA GRIP is long-lasting and extremely economical to use, so you can be confident with your performance.
All these qualities make KOALA GRIP the most popular choice available today for many sports and activities.
KOALA GRIP - Ultimate Performance
KOALA GRIP is the ultimate choice for all individuals making sure that perspiration, humidity or rain will not affect their performance.
Experience outstanding performance while using KOALA GRIP, a long-lasting and non-sticky solution for all activities that require dry hands and a strong grip. Cosmetics grade. It is extremely effective in repelling water and perspiration!
Koala Grip can be used for Pole Fitness, Aerial Fitness, Golf, Tennis, Gymnastics, Weight and Power Lifting, Rock Climbing, Bowling, CrossFit, Ninja Warriors, Gym and Rowing.
We at KOALA GRIP are extremely concerned about the endangered Koalas population in Australia and committed to contributing 20c from every bottle of KOALA GRIP sold to the Australian Koala Foundation.
GET A KOALA GRIP

CAUTION: For external use only. Avoid contact with eyes. Discontinue use if irritation develops. Keep out of reach of children. Contents are flammable. Do not expose to open flame. Store in a cool and dry place.